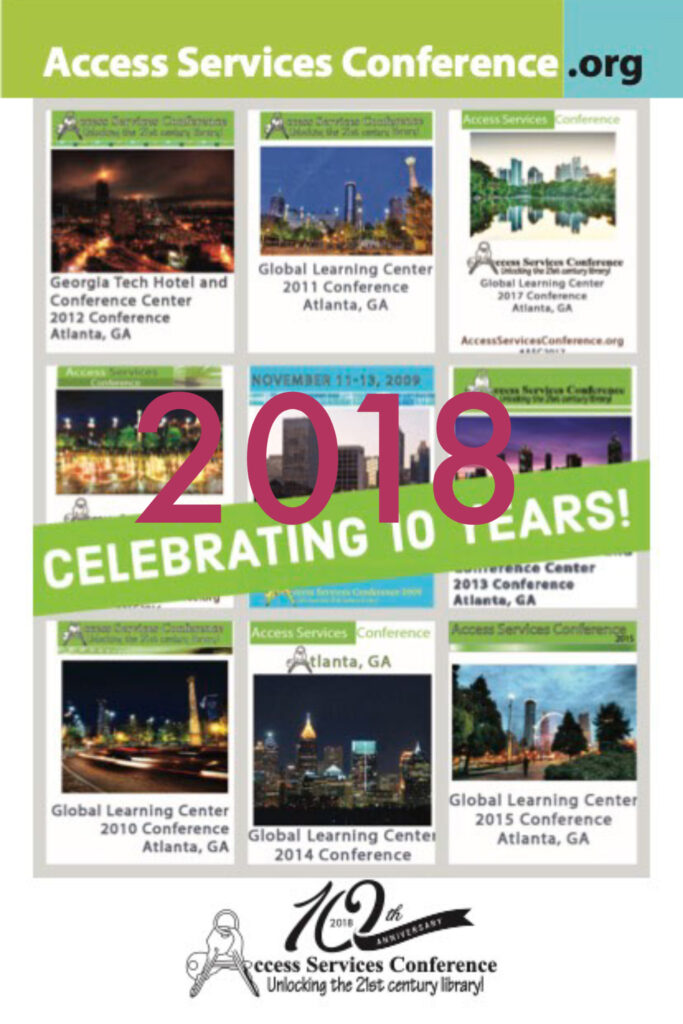 THE 2018 ACCESS SERVICES CONFERENCE WAS HELD AT THE GEORGIA TECH GLOBAL LEARNING CENTER AND THE GEORGIA TECH HOTEL AND CONFERENCE CENTER ON NOVEMBER 14-16 IN ATLANTA, GA.
2018 PRESENTATIONS
2018 PHOTOS
The Keynote speaker for the 2018 Access Services Conference was Forrest Foster.
Forrest Foster is the Assistant Director of Public Services at C.G. O'Kelly Library at Winston-Salem State University. While responsible for the supervision of public service operations of the library, including policy development, user centered services, outreach initiatives and community engagement, he also works closely with the Director on all decision-making aspects of the library's administration leadership team.
Mr. Foster earned a Bachelor's degree in Mass Communications from East Carolina University and a Masters of Library Science degree from North Carolina Central University. His librarianship experience includes work at East Carolina University's J.Y. Joyner Library; North Carolina A&T State University's F.D. Bluford Library; and Winston-Salem State University's C. G. O'Kelly Library. He has presented at numerous workshops, conferences and has also been published by Computers in Libraries, Diverse Issues in Higher Education, EDUCAUSE Review and Journal of Learning Spaces, where he also serves as an article reviewer. At the moment, he is currently involved with designing information and digital literacy initiatives brought forth to the university community. He works as an adjunct lecturer at Winston-Salem State University in the Communications & Media Studies Department, where he is developing a course that will primarily focus on the concept of digital literacy for the spring of 2019. Foster, periodic podcaster, hosts an online talk radio show called, Let's Talk Learning Spaces, designed to create dialogue and learn from other experts and practitioners of the field. Forrest is a dedicated advocate of libraries at the state and national level – a member of the North Carolina Library Association and American Libraries Association.
Some of his research interests include: value of libraries on student success, digital literacy, & experiential information literacy.