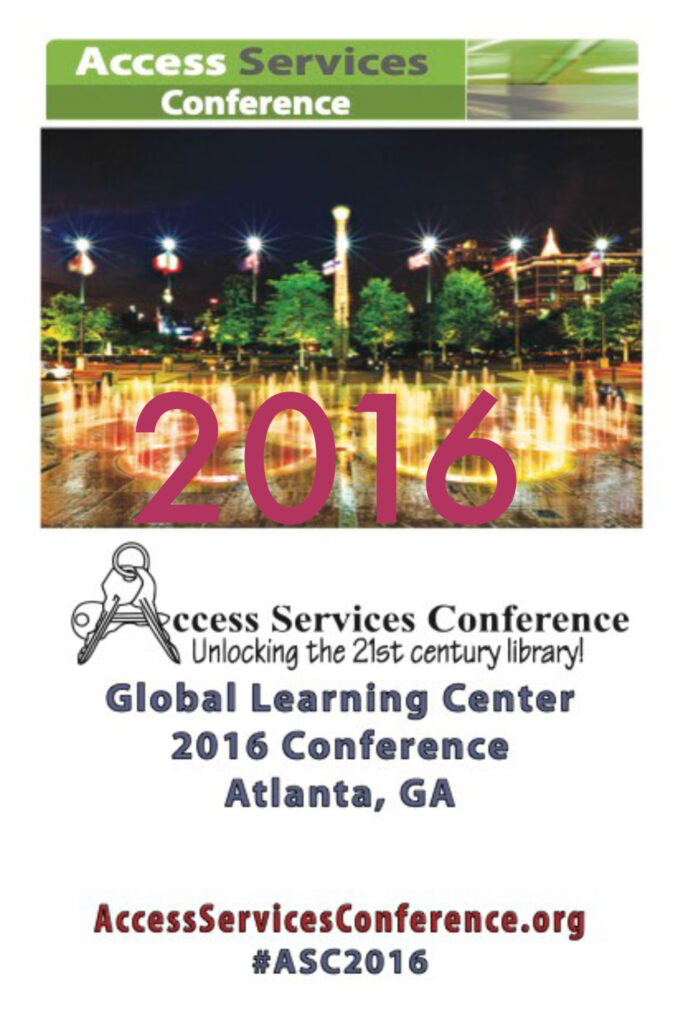 THE 2016 ACCESS SERVICES CONFERENCE WAS HELD AT THE GEORGIA TECH GLOBAL LEARNING CENTER AND THE GEORGIA TECH HOTEL AND CONFERENCE CENTER ON NOVEMBER 16-18 IN ATLANTA, GA.
2016 PHOTOS
The Keynote speakers for the 2016 Access Services Conference were Ameet Doshi and Charlie Bennett.
Ameet Doshi is Director of Service Experience and Program Design, and subject librarian for the School of Public Policy at Georgia Tech. His research interests include assessing the user experience, learning space design, sustainable libraries, and library marketing strategies. He earned his MLS from the University of Tennessee and a Masters in Public Administration from UNC Wilmington. Ameet is also a LEED Accredited Professional from the US Green Building Council and serves as a reviewer for the Journal of Learning Spaces. Along with Charlie, Ameet co-host's "Lost in the Stacks" the research library rock n' roll radio show on WREK 91.1FM Atlanta. His three year old loves to bop along to Lost in the Stacks on their morning ride to daycare.
Charlie Bennett was born in New York, raised in Virginia, and moved to Atlanta to study at the Georgia Institute of Technology. After earning degrees in Economics and Science, Technology, and Culture (STAC), he stayed with the school and became an academic librarian at the Georgia Tech Library. He co-hosts with Ameet Doshi  the "one-and-only research-library rock'n'roll radio show," Lost in the Stacks on WREK Atlanta, and produces the media podcast Supercontext with Christian Sager.