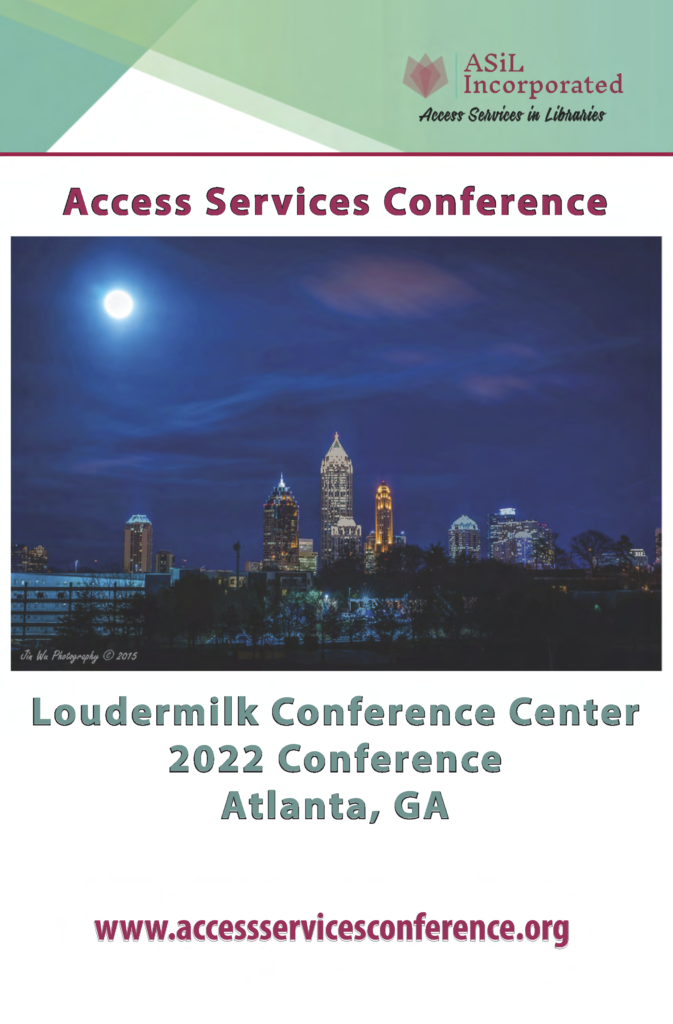 THE 2022 ACCESS SERVICES CONFERENCE WAS HELD AT THE LOUDERMILK CONFERENCE CENTER ON NOVEMBER 16-17 IN ATLANTA, GA.
2022 PRESENTATIONS
2022 LIGHTNING TALKS
The Keynote speaker for the 2022 Access Services Conference was JILL MORRIS.
Jill Morris is the Executive Director of PALCI, the Partnership for Academic Library Collaboration & Innovation, a regional nonprofit library consortium made up of 71 academic and research libraries in Pennsylvania, New York, New Jersey, and West Virginia. Since 2009 Jill has enjoyed playing leadership roles in large library consortia where her primary responsibilities have centered around organizational leadership, collaborative collections, and eResource licensing and negotiations. Jill became PALCI's Executive Director in January 2019, after previously serving as the organization's Senior Program Officer and Associate Director. Prior to her time at PALCI, Jill was the Assistant Director and Interim Executive Director of the statewide NC LIVE consortium, supporting 200 public and academic libraries in North Carolina. Jill received her MSLS from UNC Chapel Hill and holds a BA in History and Adolescent Education from SUNY Geneseo.